Our belt measurements are taken from the 'Return' and then up to the first and last hole. The 'Return' is where the leather belt meets/ folds over the buckle.
1. Measure one of your own belts from the 'Return' to the hole you fasten your belt with, then use this measurement to select one of our belts that has this measurement within its size range. Make sure that your own belt has no stretch though as this could result in an inaccurate measurement.
2. Alternatively measure your waist whilst wearing your trousers as this should usually give you the correct belt size.
3. If you do not have a tape measure handy then you can approximate your belt size using the following method however this will not be so accurate:
Your belt size will usually be about one inch bigger than your actual waist size depending on the thickness of your trouser material and how tight you like to wear your belt/ clothing i.e. if you have a 34″ waist then your belt will probably need to fasten at 35″ so you will need a 34″ – 38″ belt.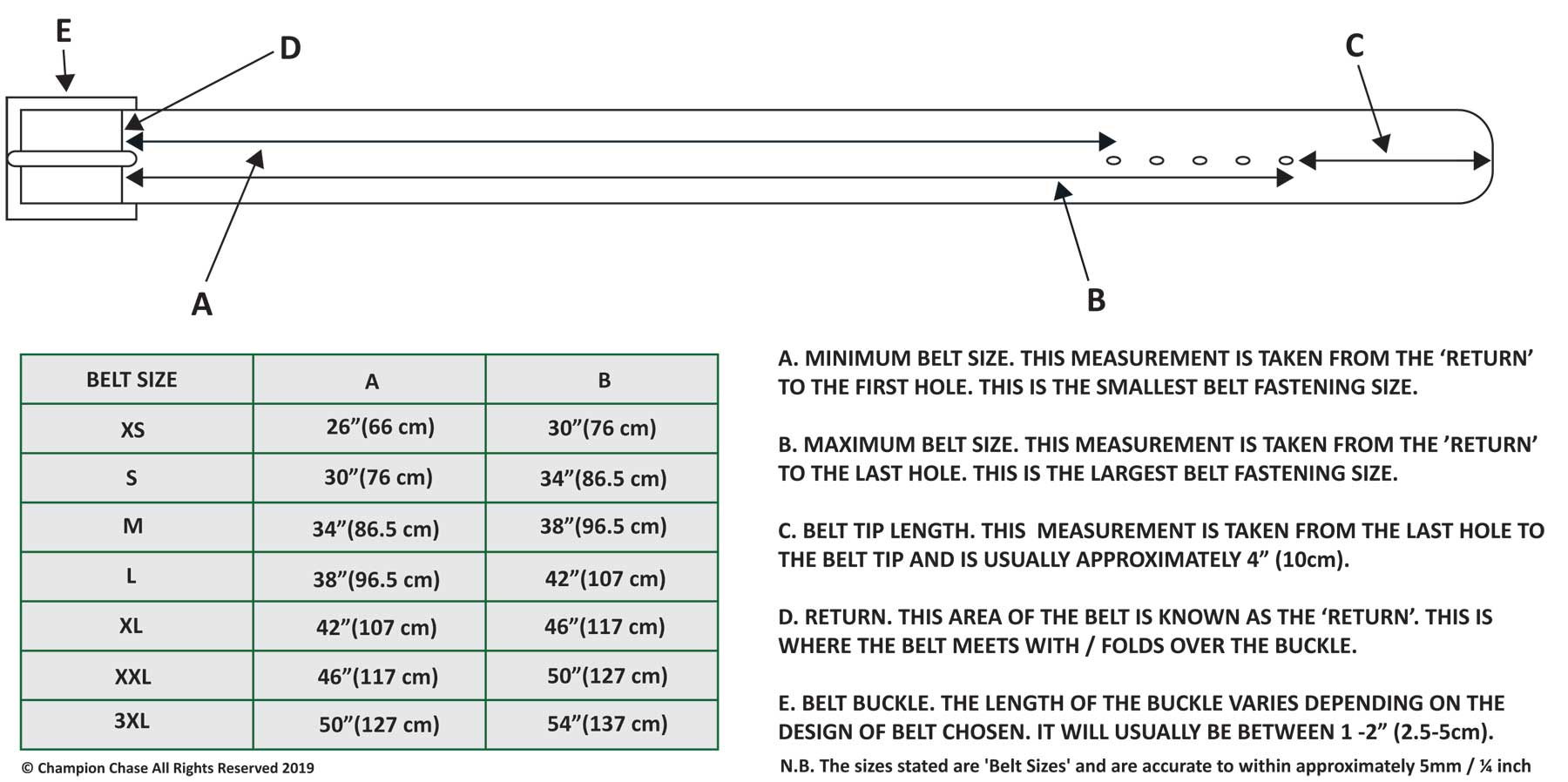 N.B. CLOTHING SIZE LABELS VARY FROM ONE MANUFACTURER TO ANOTHER THEREFORE WE WOULD NOT RECOMMEND USING THE SIZE LABEL AS AN ACCURATE WAY OF DECIDING WHICH BELT SIZE TO BUY.
ALSO SOME TROUSER LABELS DISPLAY THE WAIST SIZE BUT ACTUALLY SIT A LITTLE LOWER THAN THE WAIST LINE SO YOU MAY NEED A BELT SIZE THAT IS NEARER YOUR HIP SIZE.